Bathroom, Ensuite & Powder Room Design
We have created tiered services so you can choose the level of involvement you require on your project. As no two spaces or briefs are the same, we create our Fee Proposal following a home consultation once we establish the scope of works. Discounts are available for multiple rooms.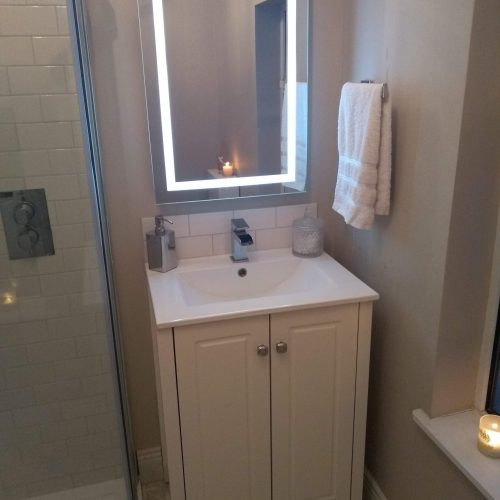 CONCEPT DEVELOPMENT, SOURCING & RESEARCH
After our consultation, we work in the background to create the initial concept design for your space. We spend 2-3 weeks sourcing the agreed design elements and drawing the floor plan to confirm the most suitable layout.
We email your presentation to you in PDF format, to give you a few days to sit with the design and make any changes you want. We will then have a Zoom meeting to go over the details of your custom design.
PRESENTATION, REVISIONS & FOLLOW UP
We believe in collaboration between client and designer so in this presentation we will ask for your feedback, discuss any requested changes and fine tune the details. 
We will amend the plan once with as many changes as you require for each round of revisions. Your proposal will include the number of revisions included, which will be based on the brief we discussed in our consultation.  Generally we will allow for two changes to the design, but more hours can be added to explore alternative layouts.
MATERIALS SELECTION & APPROVAL
The next step is to select the materials and finishes for your project based on your style and functional needs. We will meet with you to view samples and agree colours and finishes for all aspects of the design such as kitchen cabinet colours, worktop finish, furnishings and window treatments. 
PRODUCTION DRAWINGS & INTERIOR DETAILING
Once your contractor has measured the areas for the tiles, sanitary ware, window treatments etc.  we will adjust the designs to suit any alterations and create the final production drawings. These drawings will detail every element of the design, such as space plans which we will send to you for your approval.
FINAL DESIGN & SHOPPING LIST
Your final design pack will include an itemised floor plan, photorealistic 3D renderings and a list of all product and finish selections which is ready to hand over to your contractor to implement your designs.
Now that the design concept has been pinned down, we will send the design to our recommended craftsmen to quote the project.  You are also free to send the designs to your preferred contractor. 
We will present your materials and finishes on a concept board and liaise with the manufacturers, soft furnishing companies and installers to provide you with a breakdown of costs for each of the items in our proposal.  Engagement of trades are usually confirmed during this stage.
PROJECT OVERSIGHT & SITE VISITS
Project Oversight is only available if we created the drawings.  We work closely with our trusted team of independent trades and suppliers to ensure that this stage runs as smoothly as possible. 
While we do not provide general contracting services, we will happily refer trade professionals that we have worked with in the past.  The decision to hire any Contractor will be entirely yours, even the ones we refer. This is when we get to work with the implementation of our agreed upon role in any construction or renovation included in your project. 
This usually means that we are meeting with the builders, suppliers and other contractors that you hired to discuss our plans, making the agreed upon site visits to ensure that our plans are being carried out according to our specifications.
Ready to Get Started?
Schedule a Discovery Call with Shauna to get the ball rolling with your project. 
Click the button below to schedule your free Discovery Call.
Let's Go