6 Tips to Create a Productive Home Office
The key to a good home office is to create a space that is both comfortable and organized, so you can be your most productive self. It is not just about creating a functional space, but it is equally important to make it a space you want to be in!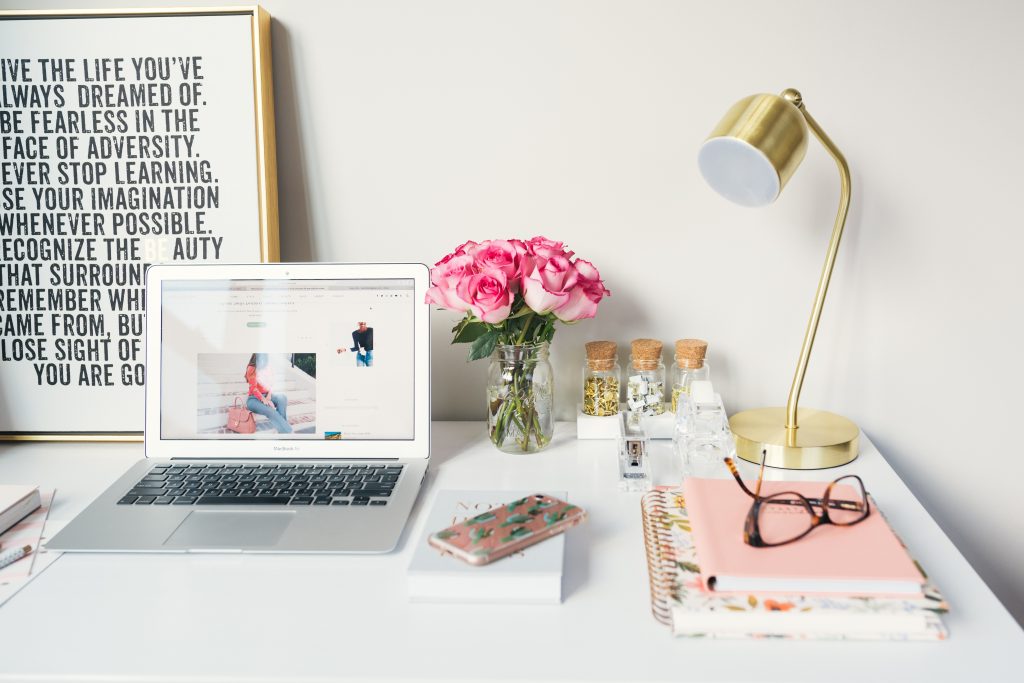 The room should be designed with the most efficient layout to keep everything you use regularly within arms' reach, with enough workspace and storage for everything you need. Keeping a shredder under your desk will help you dispose of confidential papers more frequently and stop them from building up on the desk. 
Once you have a place for everything, think about adding touches of personality to draw you in to work. 
We have put together 6 steps to creating your ideal workspace, so let's start with the obvious… 
The desk is where you will most likely be spending most of your time.  Ideally it should be positioned under a window, or close to natural light for the most comfort for your eyesight and to boost productivity. If this is not possible, there are many artificial lighting options that mimic natural light. 
Keep the desk clear of any non-work-related objects and maintain a clean desk policy as this will improve your productivity.  Regular filing and shredding is also useful as wasting time searching through piles of paper to find a particular file is not only a waste of time but likely to quickly kill your motivation.  
Think about the type of desk that will best suit your line of work – Standing desk, sitting desk, or a motorized option can be adjusted to suit both.
A workspace clear of clutter will help you to think more clearly. Group your items into the frequency of use, so everything you need regularly is within easy reach, and anything used rarely can be stored away.   
Besides the electronic equipment, files and folders, you will need storage for your stationery supplies – preferably stocked together so you can keep track of when you are running low on something. 
Keep your workspace tidy by incorporating accessories such as this pencil tray, or have your keyboard on a pull-out keyboard tray, which can also include compartments for small items such as paperclips and pens.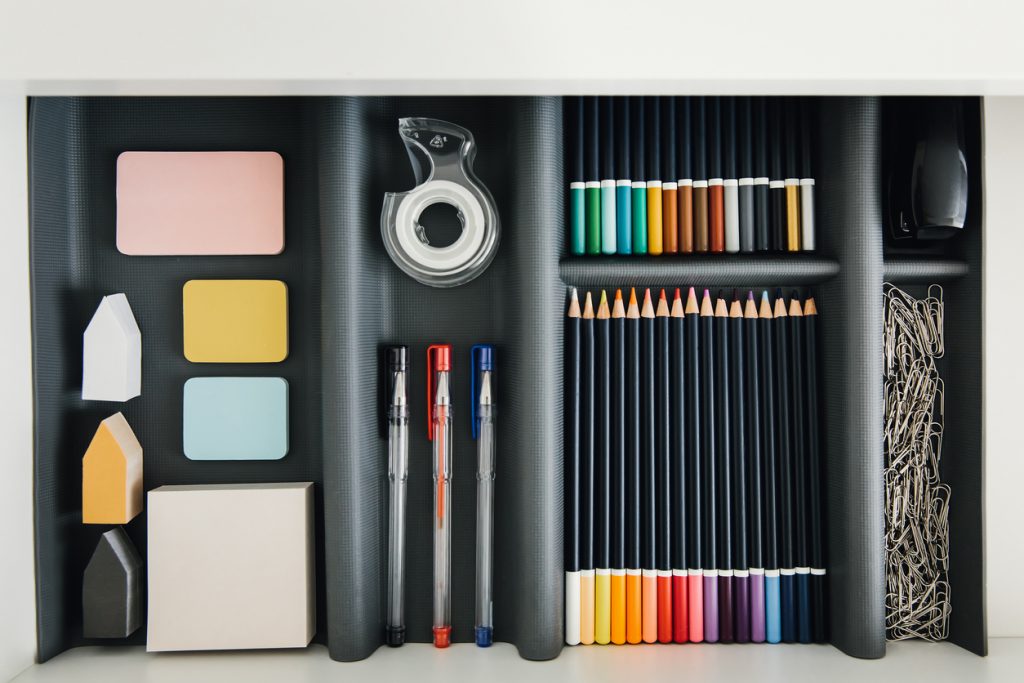 Think about the additional requirement such as a security safe, or a Fire-Safe Box that can be incorporated into the new layout. 
Utilise as much space as possible with wall shelves built to the ceiling, even keeping a step stool nearby for rarely used items. 
Decorative baskets can organise other items, while adding colour and personality the room. 
Make sure you chose an ergonomic office chair to avoid back problems as it ensures you are maintaining the correct posture.  A swivel chair will help you to quickly access files stored behind you. 
If you have the space, consider adding a comfortable chair or small sofa where you can relax during your breaks, so you are not glued to your desk. 
4. Lighting & Electrical Equipment
Natural lighting is not only great for boosting productivity, but it also has an effect on your quality of sleep, as well as your mental and physical health. Unfortunately, it is not always possible to position your desk at a window, so natural light bulbs are a great alternative.  
 Good lighting will not only help you see your work, but it will also set the atmosphere in the room. Ideally a mix of task lighting and mood lighting will make the space both functional and comfortable.  
 You will need enough sockets to incorporate all your electronic equipment, and don't forget to let us know if you need to allow space for a telephone, internet modem, network router, printer/scanner and the type of PC/laptop and number of monitors etc.  
Cable outlets will help to hide cords and cables and keep them tidy.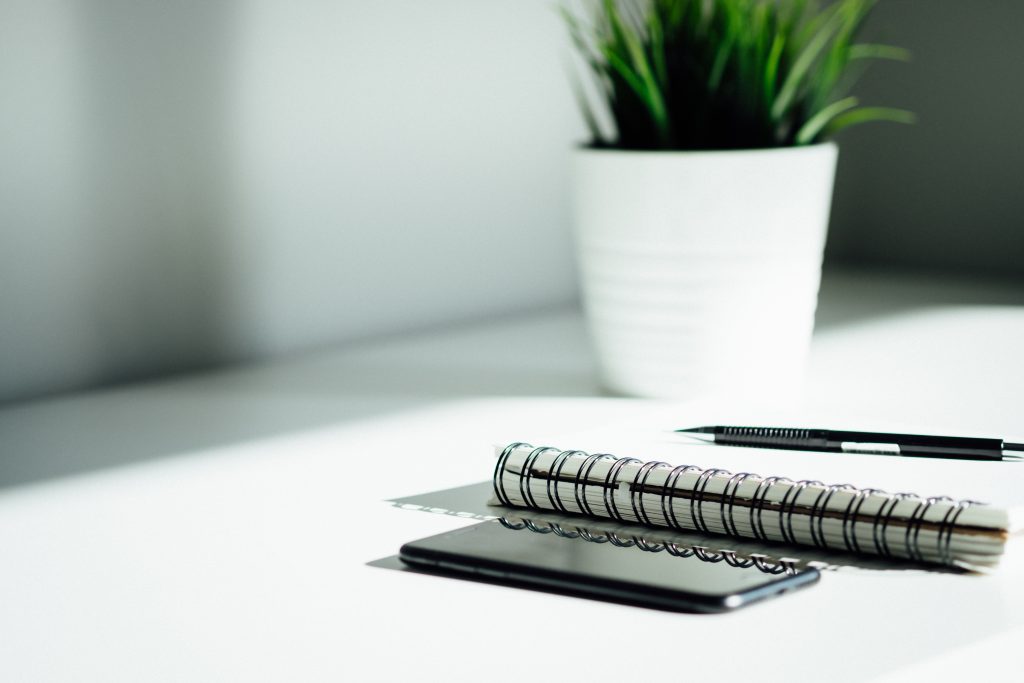 A calm, soothing atmosphere will help you concentrate.  
Green is the best choice for your home office. Not only is it believed to be the most relaxing colour for your eyes and awaken creative performance, but it also has a calming effect to alleviate stress.  
You don't have to paint your new units green, or even your walls. You can bring green in with accessories, or on a feature wall, or even consider adding greenery – houseplants can get you psychologically engaged and promote happiness, which will result in better work. 
If green isn't your style, you can look to the psychology of colour for help. Neutrals such as white and grey will minimise distractions, yellow brings warmth and energy, purple promotes wisdom and creativity, while blues are calming.  
Make sure it's somewhere you want to be!
While an attractive space helps to improve happiness and productivity, you need to be careful when personalizing your office to avoid cluttering your space with too much décor. 
However, you spend most of your waking hours in your office, so think about the types of personal items that will motivate you and make you happy, to give you a sense of ownership of your workspace. 
Hang art or photographs on free walls and bring life and colour into the rest of the space with decorative boxes and folders. 
It is also important to make sure your office is a private space, free from distractions from family members and pets.   
Set boundaries with family during work hours, but also equally important is to remember to be strict with your office hours.  Close the door and walk away after the workday finishes, regardless of how nice the new design is! 
If you would like to chat with us about creating your dream kitchen or home renovation, please do get in touch with us at info@musedesign.ie.
Subscribe to our newsletter
Don't miss new updates on your email